Looking for a way to use up extra cranberries in your fridge after Thanksgiving? These Cranberry Orange Muffins with Lemon Glaze are your answer!
Foodwaste is Real
I was walking around my neighborhood the other day and saw a PSA that said 40% of all food in America is thrown away. FOURTY PERCENT! That number seemed shocking to me. While this has to do with factors beyond our control in some cases, I also believe we can start tackling this problem right in our own homes. Have you ever looked in your fridge on a Sunday night only to find a lot of rotting lettuce you had every intention of eating during the week? Yeah, me too.
Haunted by the ad I saw, and committed to living a better Zerowaste life, I looked in my own fridge to see what I had going on in there. After cooking Thanksgiving dinner nearly two weeks ago I completely forgot that I had a bag and a half of leftover cranberries that needed to get used. I started looking at some recipes that involved the use of fresh cranberries to see what I could whip up.
Muffins to the Rescue
Inspired by a recipe I saw at Bake. Eat. Repeat., I created my own version (with a few substitutions) based on what I needed to use up in my fridge. These cranberry orange muffins with a lemon glaze came out AMAZING. To be fair, they were a little more scone-like, but I think that's what made them even better. And I got to use up those cranberries and some half & half.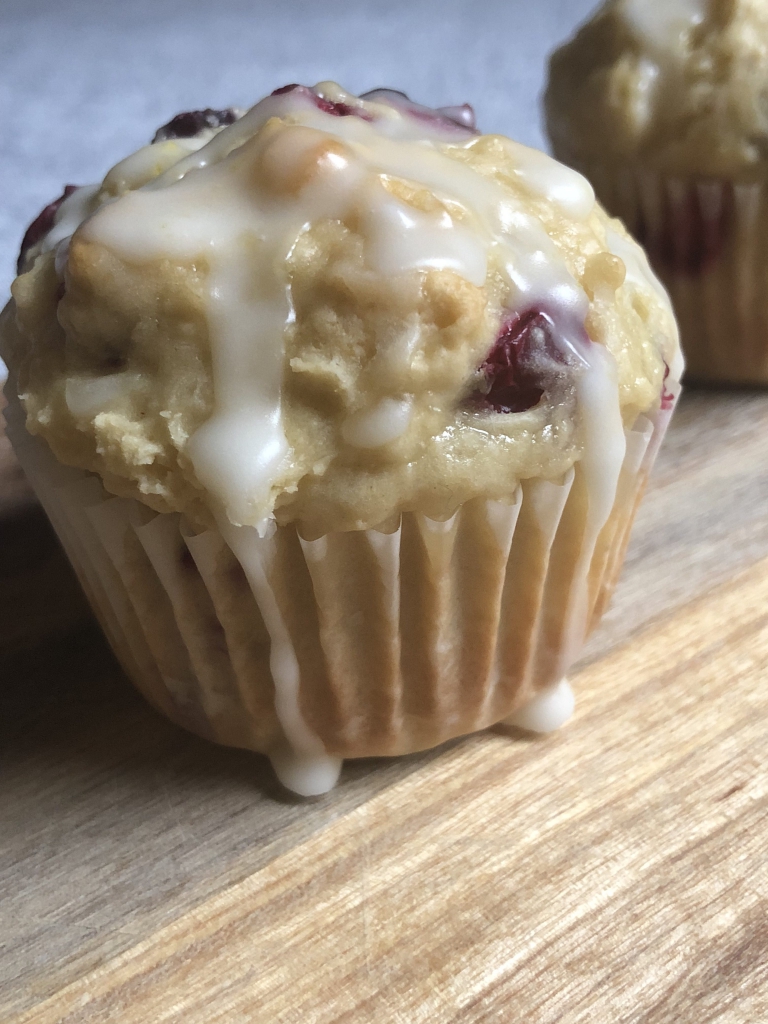 Cranberry Orange Muffins with Lemon Glaze
For the muffins:
1 cup fresh cranberries, quartered
Zest from 1 lemon
1/2 cup granulated sugar, plus 1 tablespoon
2 1/2 cups all-purpose flour
2 1/2 teaspoons baking powder
1 teaspoon salt
2 eggs
4 tablespoons unsalted butter, melted and cooled
1/8 cup applesauce
1 cup half & half
1 1/2 teaspoons pure vanilla extract
1 tablespoon Cointreau (orange-flavored liqueur)
For the glaze:
1 cup powdered sugar
Zest from 1 large lemon
Juice from 1 large lemon
Directions:
Preheat the oven to 425°F. Line muffin tin with 12 liners and set aside.
In a small bowl, combine cranberry quarters with 1 tablespoon granulated sugar and set aside.
In a larger bowl, add flour, baking powder and salt. Combine.
In another larger bowl combine remaining ingredients: sugar, eggs, butter, applesauce, half & half, vanilla extract & Cointreau.
Pour wet ingredients into the dry ingredients and combine. (The dough was a bit too sticky for me when I did this so I had to add a splash more half & half to mine.)
Fold in the cranberry mixture.
Scoop mixture into muffin tin liners.
Bake in oven for 5 minutes at 425 degrees. Lower temperature to 350 degrees and cook for an additional 15 – 18 minutes.
Let muffins cool completely on a wire rack.
While muffins are cooling, create the glaze. Squeeze lemon juice & zest into the powdered sugar. Stir until combined.
Drizzle glaze over completely cooled muffins.
Note: I attempted to store the muffins in my microwave but don't do that! The glaze will completely melt. Storing in an air-tight container in the fridge was the way to go.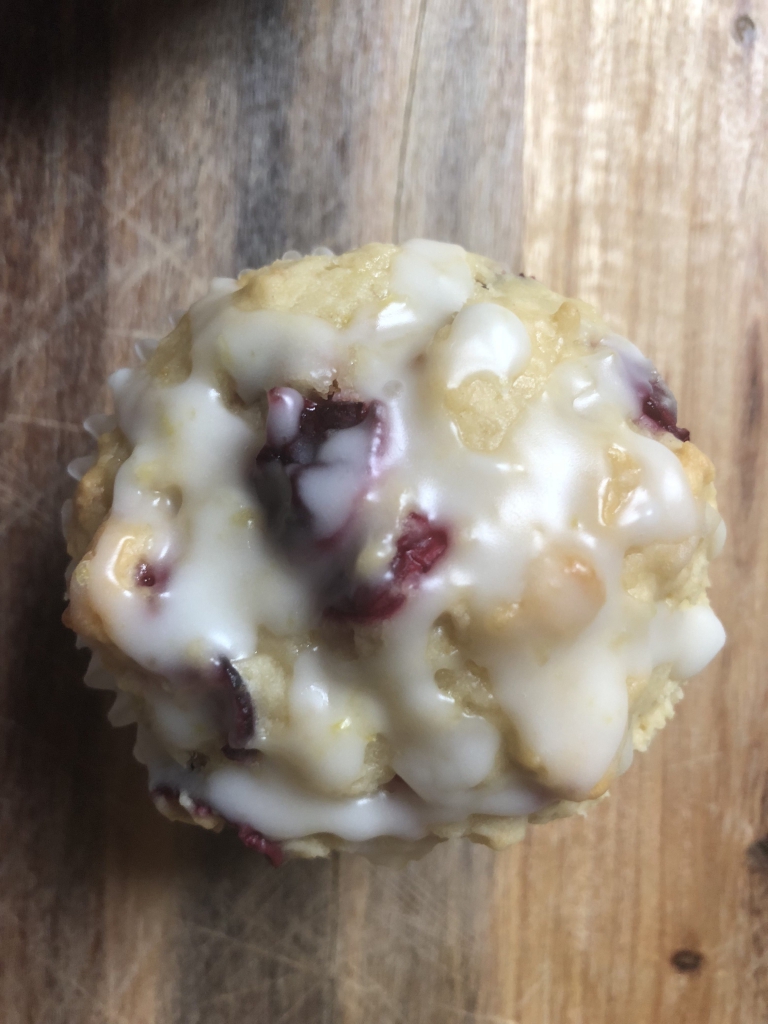 I hope you enjoy these cranberry orange muffins with a lemon glaze as much as I did. Do you have any favorite fresh cranberry recipes? I still have a full bag to use!