Why is it so hard to find clean skincare in glass packaging? It seems like beauty & skincare companies, even ones who deem themselves "clean" or "sustainable" still package their products in plastic.
Plastic is in our takeout containers and single-use coffee cups. It's is in our shampoo bottles and yogurt containers. Plastic lines our gourmet cheeses and wraps even seemingly health-conscious purchases like veggie burgers and soy dogs and tofu. Plastic is everywhere!
Sadly, plastic is also a major component of packaging in the beauty and skincare industries According to an article in WWD, Eurostar International issued a report stating 7.9 billion units of rigid plastic were created in 2018 in the US as packaging for skincare and beauty products. That's a lot of face cream and soap and mask containers that will end up in a landfill someday.
Hopeful For More Clean Skincare in Glass Packaging
I'm really excited that many beauty and skincare companies are getting hip to the fact that customers are demanding better packaging options. Especially consumers in the clean beauty space: We expect our products to be free from toxic chemicals and we also expect the containers they come in to be plastic-free, too.
Here are some of my favorite clean skincare items that come in glass packaging. Most of my picks come in packages made from glass and/or metal (both of these materials are recyclable while most plastic skincare and beauty containers are not). While some do have small plastic components, it's hard to find brands with 100% plastic-free packaging. I do feel like there has been a giant shift in the industry and brands are working hard to drastically reduce or eliminate plastic from their supply chains. This is the best of what I've found so far!
I think it's really important as consumers to spend your money on things you value. Companies have zero incentive to change if customers don't demand it. Brands want to make as much money as possible on as high of a margin as possible; virgin plastic is cheap and therefore use it to increase their bottom line without regard for the planet. We as consumers need to vote with our wallets.
It's also important to note that some brands might package certain products in glass and others in plastic. Don't just blindly buy an entire brand's range: Buy the items that specifically come in non-plastic materials! Same goes for selecting specific items in a range with non-toxic ingredients.
Therefore, next time you need a new mask or face cleanser, try to shop with a brand that makes plastic-free packaging! Here are some great clean skincare in glass packaging options to get you started.
8 Great Options for Clean Skincare in Glass Packaging
Face Theory
I'm so glad a found the brand Facetheory! It's a UK-based clean skincare brand that's serious about ingredients: Facetheory uses top-notch ingredients like acids, retinols, and vitamins. I want my clean skincare to perform as well as conventional skincare products, and every Facetheory product I've tried stands up.
1. Clarifying Cleanser C2
I'm in love with Facetheory's Clarifying Cleanser C2. It's got a creamy texture but is packed with glycolic acid, salicylic acid, and lactic acids (AHA & BHA). I need a lot of exfoliation to deal with my acne-prone, oily skin, and this cleanser does the job.
The best part? Facetheory's Clarifying Cleanser C2 comes in a glass jar with a metal lid!
Enjoy 20% off your purchase at Facetheory by clicking here.
Tata Harper
Tata Harper is one my favorite clean skincare brands for so many reasons. This brand is ECOCERT and PETA Beauty Without Bunnies certified, uses high quality, toxic-free ingredients, and is serious about sustainable packaging. They use 100% post-consumer materials or recycled paperboard and use soy-based inks on all packages.
And Tata Harper products WORK! They're worth every penny.
2. Rejuvenating Serum
Tata Harper's Rejuvenating Serum is absolutely one of the best serums I have ever used. It's definitely not an oil; it leans toward the consistency of a lotion, but it's incredibly effective at getting rid of fine lines & wrinkles. I could not recommend this clean skincare serum more–even for someone with oily skin like me!
The Tata Harper Rejuvenating Serum is packaged in a glass bottle with a metal lid. There are some plastic components to the pump, but according to the Tata Harper website, "The plastic resin for our tubes is derived from sugar cane, which means it is made from a renewable resource instead of petroleum.".
Shop Tata Harper's Rejuvenating Serum here.
3. Clarifying Mask
Tata Harper's Clarifying Mask is another clean skincare favorite of mine. I have incredibly oily & congested skin and this mask is a powerhouse at making my skin feel smooth and fresh. Tata Harper's Clarifying Mask contains salicylic acid and lactic acids to chemically exfoliate the skin. Plus, this mask smells amazing!
Tata Harper's Clarifying Mask comes in a glass pot with a metal lid which makes it easy to recycle. I'm so glad most of the Tata Harper line comes in plastic-free packaging and produces their products in glass!
Shop Tata Harper's Clarifying Mask here.
Blume
I recently discovered the brand Blume while looking for a new face oil. The brand's marketing definitely skews toward the younger genZ crowd, but I do like that some of their products come in glass packaging.
4. Meltdown Acne Oil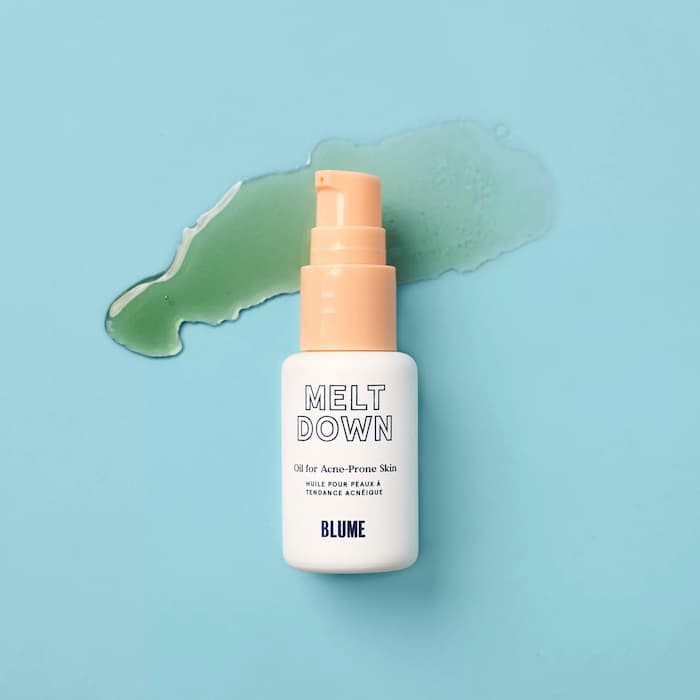 Blume's Meltdown Oil is a wonderful product. It's an oil that contains Blue Tansy and Tee Tree Oil: both are top notch in combating acne. The directions say to use this as a spot treatment but I definitely put it all over my face with no ill side effects.
Blume's Meltdown Oil also comes in a glass bottle (although the pump component is still plastic). I appreciate that this clean skincare brand is trying to make their products in responsible packaging. I haven't tried anything else from Blume's line but I highly recommend the Meltdown Oil!
Enjoy $10 off your purchase at Blume by clicking here.
Herbivore
I love this brand! Herbivore uses super clean ingredients that work. I'd recommend nearly their entire line.
5. Lapis Facial Oil
This Lapis Facial Oil from Herbivore smells INCREDIBLE! I absolutely love it for gua sha and it doesn't make me break out.
Blue Tansy is an ingredient that my skin seems to love, and this Lapis Facial Oil contains blue tansy. It's known for its anti-inflammatory and anti-bacterial properties (both must-haves for oily & congested skin types).
And Herbivore's Lapis Face Oil comes in glass packaging! The dropper attaches to the base of the bottle with a plastic attachment, but the bottle itself is glass and the dropper top is rubber.
You can purchase Herbivore's Lapis Face Oil here.
6. Jasmine Green Tea Balancing Toner
This Jasmine Green Tea Balancing Toner from Herbivore smells heavenly! It's very refreshing and doesn't make me break out or clog my pores. I tend to use this more in the winter when I need extra hydration.
Jasmine Green Tea Balancing Toner comes in a glass bottle. The pump, however, is plastic. I do like to get creative with reusing these spray bottles, however: whenever I'm finished with one I fill it with water to spray my house plants with!
Shop Herbivore's Jasmine Green Tea Balancing Toner here.
Indie Lee
Indie Lee is a clean skincare brand I've followed and used for years. I love their approach to clean skincare, and most products in their line work with my oily skin type. I also love Indie Lee's attempt to use as much plastic-free, glass packaging as possible on their clean skincare line.
7. CoQ-10 Toner
Indie Lee's CoQ-10 Toner was one of my very first clean skincare purchases! The CoQ-10 Toner contains hyaluronic acid for moisture retention and CoQ-10 for antioxidant benefits. Plus, this toner smells amazing!
Indie Lee's CoQ-10 Toner also comes in glass packaging. The bottle itself is glass but, sadly, the spray component is plastic. This product used to come in a pour-top format, but apparently due to customer feedback, they switched it to a spray bottle. At the very least, I suppose, the bottle itself is made from glass.
You can shop Indie Lee's CoQ-10 Toner here.
Josh Rosebrook
I recently discovered the Josh Rosebrook brand but I'm glad I did. His brand philosophy is built on using natural ingredients that work. Bonus: So many of his products come in glass packaging!
8. Daily Acid Toner
The Daily Acid Toner by Josh Rosebrook is fabulous if you're looking for a toner to chemically exfoliate your skin. It contains malic and glycolic acids to really remove all of those dead skin cells.
It's a workhorse but I didn't find that it dried out my skin! I like to use this best at night; I wake up with glowing, soft skin every time I use this toner.
And the best part, of course, is this toner comes in glass packaging. The bottle itself is glass; the small screw top & piece in the top of the bottle are plastic, however.
You can buy this Daily Acid Toner by Josh Rosebrook at Follain, Amazon or directly on the Josh Rosebrook site.
*A quick note! I'm part of the Amazon Associate network as well as other affiliate networks and I earn a percentage from qualifying purchases. Being part of these programs allows me to keep bringing you high quality content you can trust. Thanks!